First CCTV lens calculators were wheel calculators made out of paper.
Such wheel lens calculators are very easy to use. One such wheel lens calculator is shown bellow and the procedure to use this is pretty simple. Just select CCD Sensor Format (like 1/3″) and then rotate the wheel to choose the desired field of view (FOV).
Picture 1. Old CCTV Lens Calculator and online CCTV lens calculator
Now CCTV lens calculators made huge leap forward and have been transformed from paper to PC.
Currently there are many Online CCTV lens calculators for web browsers. Such online tools can help to calculate lens focal length, field of view and even pixel density: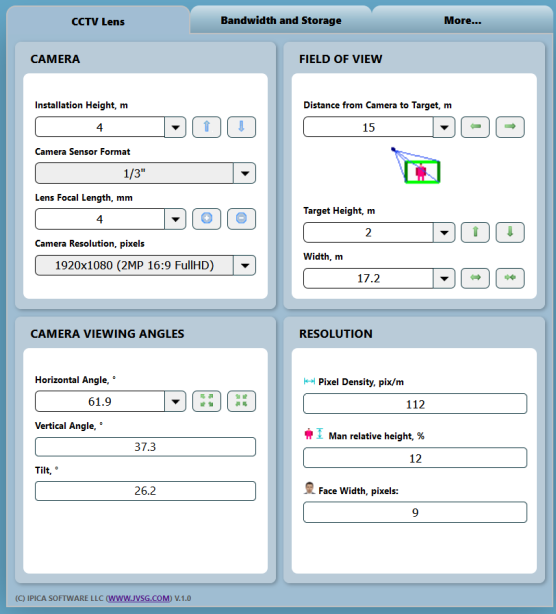 Yet, the most comprehensive ones are made as a PC software and one such example is our graphical lens calculator / CCTV design tool called IP Video System Design Tool.
Not only does it act as a focal length calculator, but also allows you to import site/floor plans, add obstacles, people and other 3D objects, and get 3D model of your CCTV system.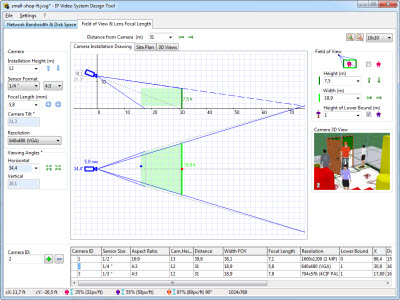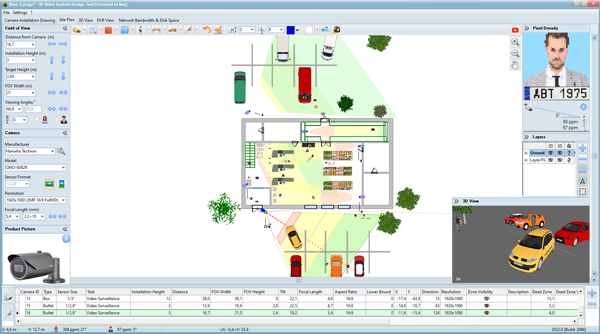 Picture 2. Example of graphical CCTV Lens Calculator
The actual working of this software is based on the same fundamental principles as the previous simple tools, but with the cctv lens calculator not only can you calculate the viewing area or focal length, but also see the actual field of view in a horizontal and vertical projections, put test persons , test objects and walls and immediately get a view from camera using 3D modeling. Apart from these functions you can design all other system parameters, like network bandwidth and storage space.
You use this online lens calculator, or download the cctv lens calculator from here.

Online Lens Calculator
Camera format (Sensor Size) - Video camera's CCD/CMOS chips format; 1/4″, 1/3″, 1/2.7″, 1/2″,  2/3″, 1″ etc.
Field Of View (FOV) - The width, height or diameter of a scene to be monitored. Usually determined by the focal length of a lens, the sensor format and the distance to the objects. See: CCTV lens angle
Focal Length (FL) - The distance from the center of a lens to the focal point (sensor). The longer the focal length, the narrower is the angle of view and vice versa.
.