This software offers a new way to design modern video surveillance systems quickly and easily.
Latest version: 9.1 for Windows 10, 8, 7, Vista, XP SP2  (what is new? | Upgrade from any previous version | Mac OS users)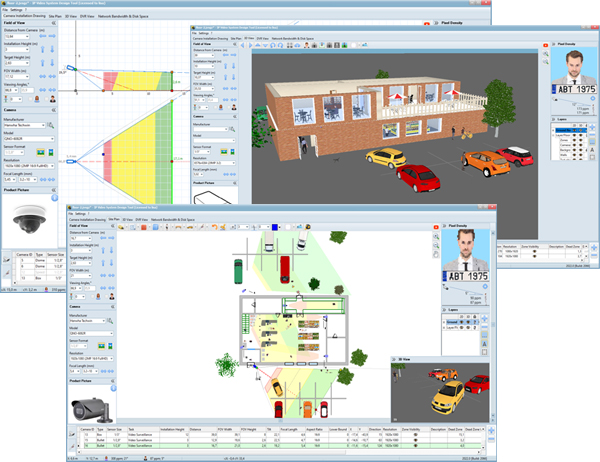 With IP Video System Design Tool you can:
Increase efficiency of your security system while lowering costs finding the best camera locations
Calculate precise camera lens focal length and viewing angles in seconds
Check the field of view of each camera and find dead zones to increase the security level of your premises using 2D and 3D modeling
Get estimations of required network bandwidth for any number of IP cameras and video servers
Calculate the required HDD storage space for video archives
Load site plan / floor plan JPEG, PNG or BMP background images from Visio or Google Earth. Import AutoCAD DWG drawings (Pro) or backgrunds from PDF files
Print or export your project to PDF.  Copy your calculations, drawings and 3D mockups to MS Word, Excel, Visio or other software to create an excellent project documentation
The only CCTV system design software with integrated network bandwidth and storage space calculation
Only with IP Video System Design Tool you can calculate both network bandwidth and storage space for 15 camera resolutions and several compression methods, including H.264, MPEG-4 and Motion JPEG. IP Video System Design Tool enables the system designer to find optimal FPS and compression that tailors to LAN capabilities and calculate required HDD storage space. Frame size estimations are based on the result of our own compression research, thanks to our extensive knowledge of compression algorithms and wide range of real-life CCTV experimental data.
IP Video System Design Tool includes a field of view calculator, lens focal length, CCTV storage and bandwidth calculators, megapixel camera resolution calculator and many other CCTV tools so you can design a video surveillance system quickly, easily and professionally.
How does it work?
Part 1: Camera installation height, field of view, lens focal length and pixel density
Part 2: Camera zones, identification, recognition, detection and EN 62676-4: 2015 (EN 50132-7)

Part3: Working with site plan, adding obstacles and 3D models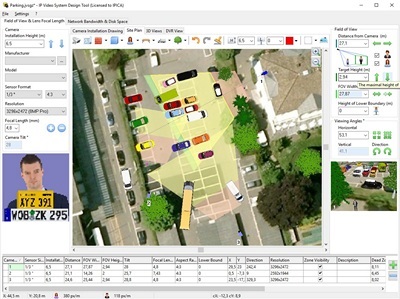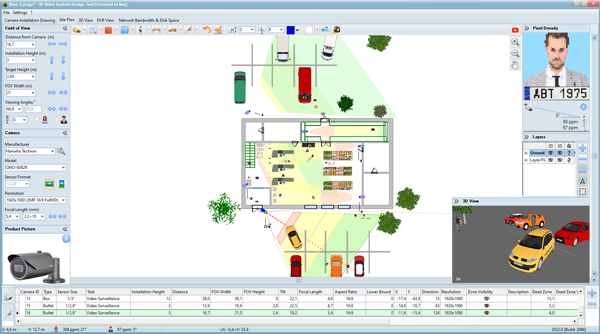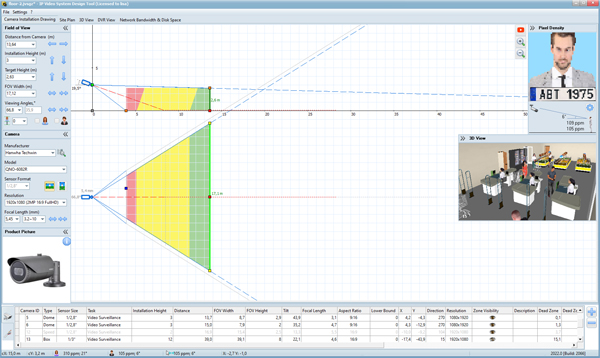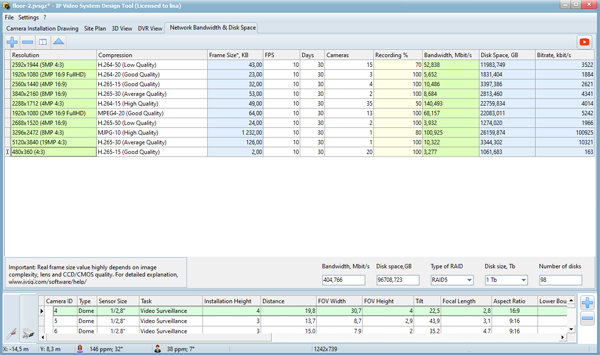 What people say about this software?

-"If you google "lens calculator" a number will come up for you to use or you can choose the IP Video System Design Tool, a small undiscovered gem.
The IP Video System Design Tool, available at www.jvsg.com  provides excellent functionality for storage and complex field of view calculations."
Pages 234, 235, "Digital Video Surveillance & Security" book, Second Edition, ISBN-10: 0124200427  by Anthony C. Caputo, 2014
- "JVSG's IP Video System Design Tool is a must have for any system designer. There is no need for guesswork anymore. Using this excellent feature rich software you can design a detailed and accurate system from the comfort of your office. No more blind spots or miscalculated lens sizes. It truly is a must have!'
Stephen Cronshaw 

, Field Technical Services Engineer
ADI Global Distribution
- "I have been using the JVSG IP CCTV designing software since 2010. Buying this software has been the best business investment! The software is not complicated to use and is very user-friendly. Besides the calculators, the 3D picture is my favorite software feature. I believe the JVSG IP CCTV software is the best design tool on the market and I highly recommend this product to video system designers."
Dario Dzinic  

, CAS, CFC, CCI
Senior Security Consultant, IRISS Security Solutions
- "I started to design video surveillance systems relatively recently. Shortly after, I realized that I needed something to better evaluate the planned design. Vendors and the web give plenty of tools, but I was surprised no one could show you what you would really get on the operator screen and an estimation of the effectiveness of the camera placement. JVSG's IP Design Tool does all these things in a very intuitive way."
Marco Desiati

, Network Infrastructure Consultant,
Anixter, Italy
- "I love IP Video System Design Tool. It allows me to provide a sophisticated CCTV camera layout to prospective customers for many applications such as Video Analytics, General Surveillance, LPR and more. The fact that I can calculate pixels per foot, the object percentage of FOV, height, angle, object distance and other parameters is amazing."
Greg Skarvelis

, Director of Sales Enablement
Verint Video Intelligence Systems, www.verint.com, US
- "Anyone seriously working in the CCTV business should use JVSG IP Video or CCTV design tools. It is great to visualize the effects of different camera positions and the use of different lenses. It shows even in 3D!! By using this software, it is very easy to show the installer or end-users  what the end-result will be per camera."
Norman Graafsma

, Independent CCTV consultant, DUVICON CCTV Consultancy,
www.duvicon.com, the Netherlands
PDF Presentation: CCTV Design Tool: IP Video System Design Tool
White Paper: From CCTV Pre-visualization of Design to Fruition – by Jay C. McCormick 

PSP, CAHSO, ESCO Communications
Case Study: LENSEC uses IP Video System Design Tool by JVSG to easily design large scale surveillance systems and mutually understand client requirements in a better way through 3D visual models - Jamie Bradford

, Director of Solutions, LENSEC
Who uses our software?
Over 4000 companies design video surveillance systems with the help of IP Video System Design Tool.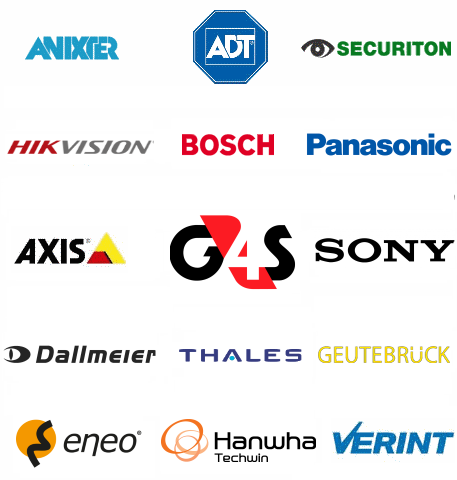 How to download free 45 day trial version?
To download the latest version 9.0 [Windows 10, Windows 8, Windows 7, Vista, Windows XP SP2, ZIP, 41 MB]  please click here.
Version 8.1 [ Windows 8, Windows 7, Vista, Windows XP SP2, ZIP, 41 MB]  please click here.
Some 3D models for the Pro version can be downloaded here.
Instructions for Mac OS users.
This version includes English, German, French,  Spanish, Portuguese, Italian, Swedish,  Czech, Dutch, Greek, Chinese, Korean, Thai, Japanese, Russian, Polish, Bulgarian, Turkish and Romanian localizations.
We recommend to use AMD Radeon or NVidia GForce graphics cards for large video surveillance projects.
How to purchase?
You can purchase the software fast and secure using Credit Cards or PayPal via our e-commerce provider. Also it is possible to use ACH, Direct Debit, Purchase Orders,  Money Bookers, Local Bank Transfer or International Wire Transfer.
See also: