See all our news on IP Video System Design Tool Facebook page.
Version 9.1 | Version 9.0 | Version 8.1 | Presentation in PDF | Presentation on Slideshare
More than 25 new features and  improvements in IP Video System Design Tool 9.1
Version 9.1 build 1650 (updated on 14th st of December 2017, download,  upgrade)
New photorealistic 3D models: scanned people.
New 3D models: trucks, cars, buses, a motorbike, a mixer, a forklift, a monitor.
Supported cameras with non-standard wide lenses.
Fish-eye cameras simulation. Supported 3D View for cameras with fish-eye lens (pro).
The user can choose a lens from the list of lenses for each camera model.
Supported windows and doors for curved walls.
The user can add a project description or a custom text into exported PDF file.
The user can add custom PDF pages to the project.
Supported user 3D models in .OBJ format (pro).
Supported site map / floor plan import from .TIFF files (in addition to already supported PDF,  JPEG, PNG and BMP).
Redesigned Site Plan Toolbar.
Improved Clone Stamp Tool.
Added Undo/Redo buttons on the Siteplan toolbar.
New default camera resolution: 1920×1080 16:9 (most popular camera resolution in 2017).
Added 20 different license plates for cars.
Faster program loading: the program starts in 10 seconds and loads camera database later.
Improved 3D models of software generated trees.
Smart localization tool added (new texts are highlighted, added Next/Previous  buttons).
Undo buffer modification to support visual effects.
Supported new Hikvision camera models.
Updated AXIS and  DigitalWatchdog camera models.
Added new Panasonic camera models.
Added Bolid, RVi and Satvision cameras.
Geutebrueck cameras updated.
Supported new Dahua cameras.
Performance optimization for large projects.
3D models preview implemented.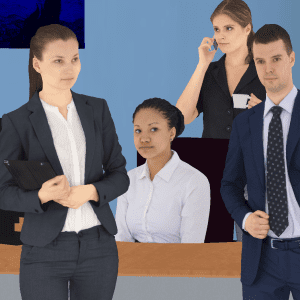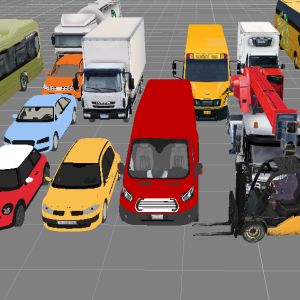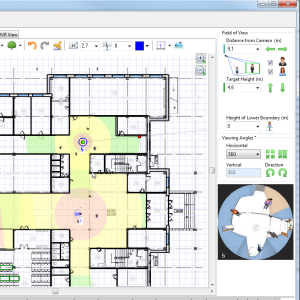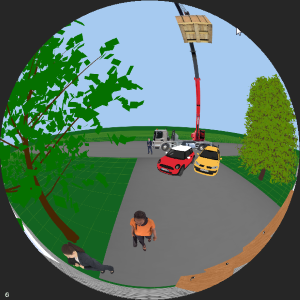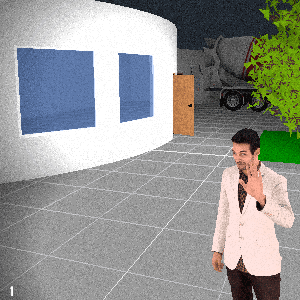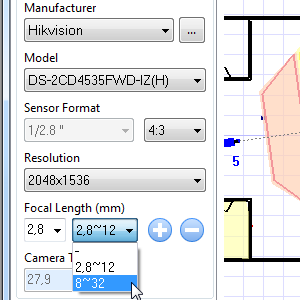 Version 9.1 build 1643 (updated on 5th st of December 2017, download,  upgrade)
Version 9.1 build 1641 (updated on 1st of December 2017, download,  upgrade)
Version 9.1 build 1636 (updated on 30th of November 2017, download,  upgrade)
Version 9.1 build 1629 (updated on 21th of November 2017, download,  upgrade)
Version 9.0 build 1555 (updated on 15th of May 2017, download link, upgrade)
New project file format .jvsgz contains the project in XML format, background images and user 3D models in the single compressed (ZIP) file.
New tool: Stamp. With the Stamp tool, the user can quickly add dozens of walls on the site plan. The new wall will be connected to the previous wall.
With the Stamp tool, you can add multiple test people, cars or trees in seconds.
New visual effect: black/white camera (Pro).
New visual effect: fog emulation (Pro).
New visual effect: night and noise (Pro).
New visual effect: projector (Pro).
Added smart Sort by ID function to arrange cameras by their ID: 1, 1.1, 1.2, 2, 3.1, 3.2, 10A, 11.
The user can convert a straight wall into a curved wall by right clicking the wall and by selecting Convert to Curved from the popup menu. It is possible to create a curved glass wall.
Operations with multiple selected objects are improved.
When the user changes the measurement system, for example from Metric (m)  to Imperial (ft) the project including wall length, camera distances e.t.c is recalculated.
Added flip and rotation buttons on the PDF file import window.
Added a PDF file compression. An average exported PDF file size is about 50% smaller than before.
The program supports additional PDF import DPI resolutions:  200 DPI, 150 DPI.
Improved the graphical performance on large projects.
UI redesign: horizontal and vertical camera FOV angles are moved to the right FOV panel. The man's face with a number plate is moved to the left to save the height of the program's panels for laptops with 1366×768 screens resolution.
Toolbar and button icon's size have been increased from 16х16 to 24х24 pixels  to support high resolution and retina displays.
The user interface of bandwidth and storage space calculation has been improved.
Improved compatibility with Windows 10: improved  ZoomIn/Zoom Out function with the mouse wheel.
Camera database update. Updated AXIS, Dallmeier, IDIS, Vivotek, VisualInt,  IPIXA camera models.
Interlogix, UNV, Convision, OnCam, Mobotix and RVi cameras added.  Now the database of camera models contains more than 2400 cameras.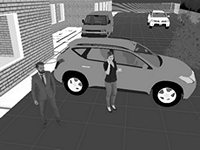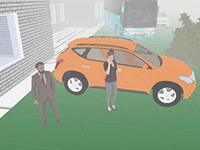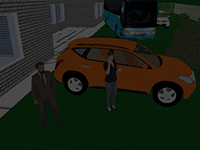 New video tutorials have been published:
March 2017. We presented the new version 9.0 at Securika2017 Exhibition.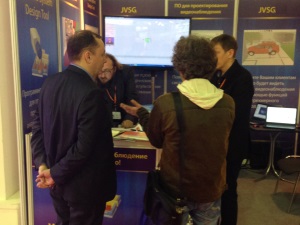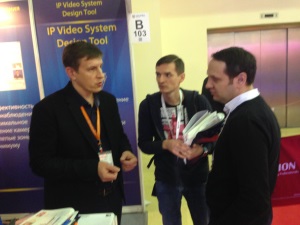 Version 8.1 build 1348 (updated on 11th of April 2016,  download link,  purchase an upgrade from versions 7 or 6)
Mouse Double click opens Properties window for stairs, fences, tilted surfaces.
Supported Collada 1.5 format for user 3D models.
Supported H.265 compression codec on bandwidth and storage space estimations tab.
Japanese localization has been updated.
EXE file digital signatures updated
IDIS cameras added.
VIVOTEK and Panasonic 4K camera models have been updated.
Supported new camera models from Panasonic, Pelco, Dallmeier.
Spanish localization has been updated.
Projects loading speed has been increased.
Bug fixes:  loading background images from PDF files
You can import AutoCAD DXF files in both Vector and Picture format.
Added EN50132-7 test chart.
Version 8.1 build 1271 (17 December 2015)
PDF report optimizations.
Improved support of Fish-eye cameras. You can switch between Ceiling/Wall mounted mode by choosing 360/180 degrees (Horizontal Angle field).
PDF reports improvements. The program adds test person faces into PDF reports.
Added CTRL+W hotkey to quickly add a wall.
VIVOTEK camera models were updated.
Mouse-wheel Zoom In / Zoom Out speed settings have been added to Menu/Settings/Program Preferences/Site Plan tab.
Program Preferences settings have been simplified. You can use CTRL+F10 to see the old version of Program Preferences window.
Version 8.1 build 1180 (13 July 2015)
The graphical core of the program has been rewritten and optimized for OpenGL 4.0 drivers. The graphical program performance is significantly improved (3-20 times) on Nvidia cards (including NVidia NVS4200) and Intel HD Graphics cards.
The user can change colors of doors.
It is possible to change colors of furniture.
You can drag-and-drop .jvsg project file to the program to open the project
Corrected the zone displaying for Dallmeier Panomera(R) cameras.
Improved the algorithm of displaying Identification, Recognition, Observation, Detection, Monitoring zones.
Internal localization mechanism has been updated to fix possible problems with Korean, Thai, Chinese and Russain fonts on some computers.
Fixed "XML loading" error on some Korean, Chinese, Japanese versions of Microsoft Windows.
Fixed an erroneous message "Beta period is over".
Fixed tree sizes in Imperial mode.
16 June 2015. We have presented IP Video System Design Tool version 8.1 at IFSEC trade show 2015 in London.

See photos from IFSEC 2015: 1, 2, 3, 4
Version 8.0 release 1  build 1129  (27 May 2015)
Fixed "Beta period is over" message.
Added camera database filters. The user can search cameras by minimal resolution, sensor size, manufacturer and camera type.
The database of cameras contains popular camera models from AXIS, ACTI, Bosch, Dahua, Dallmeier, Hikvision, JVC, Panasonic, Samsung, Sony, Vivotek.
Improved camera database import function.  The user can import camera database files (For example some cameras from  Advidia, Visualint, 180 and 360 degrees Arecont Vision cameras (test version).
Supported Korean language.
Version 8 build 1102 has been published (March 2015):
Built-in database of camera models. The user can add new camera models to the database. The list of camera models can be updated online (the user should click "Synchronize" button on "Check" updates window). The user can export/import camera models from the database.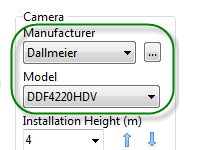 Support of multi-sensor cameras from Dallmeier Electronic including multi-focal sensor systems Panomera®. The multifocal sensor system Panomera® stands out due to it's completely new lens and sensor concept: the resolution never falls below the specified parameters, not even in the most distant areas of the image.
Support of curved walls: brick curved walls and painted curved walls.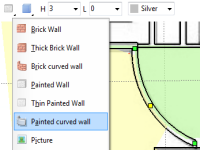 The program shows a test man face at the specified distance using calculated pixel density.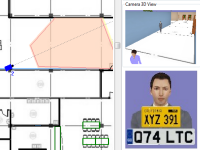 Identification, Recognition, Observation, Detection and Monitoring zones can be shown on 3D view and 3D preview windows.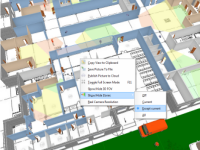 Improved "walls cut zones" function.
Improved walls connections on Site Plan (better wall endings).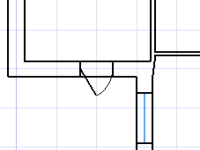 Added 9 test faces A1 – C3 similar to EN50132-7 9 test faces.
ViDi Labs SD/HD Test Chart (To use with "Real camera resolution" option in Full-Screen mode). You can order a paper version of this test chart from us.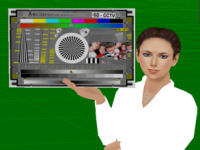 3D models of office furniture (tables, cabinets, chairs) have been added.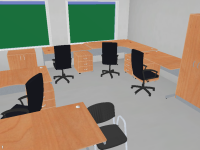 3D models of money and playing card have been added.
German help file and Thai localization has been added. Spanish, German, Portuguese, Greek, Czech, Bulgarian and Russian localizations have been updated.
Version 7.2 build 1012 published October 2014 (download, purchase an upgrade)
Support of Swedish language and Swedish help file.
Minor improvements and bug fixes.
Test Version 7.2 Build 993 is available for download (06 August 2014, ZIP, 46 MB).
Added DVR View for Pro versions.
Added detailed camera pages for print/export (with installation place and reference map)
Site plan print modes: extents, screen, selected objects (File/Print/Export Data tab/Add Site or Floor Plan)
Improved "Walls limit camera zone" function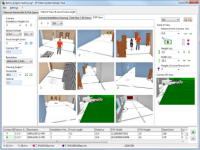 Version 7.2 Build 979 is available for download (27th of June 2014, ZIP, 45 MB).
It is possible to move camera or FOV heigh, FOV distance on Installation Camera Drawing tab with the mouse.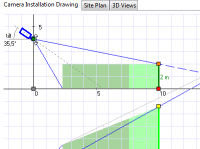 Tilted surfaces (Pro versions).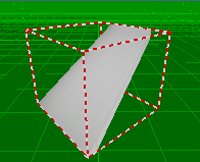 Now it is possible to show/hide identification, recognition, detection and monitoring zones on 3D Views. To activate, please right click 3D View, and choose "Show/Hide Zones" or "Show/Hide 3D Zones" from the context menu.
Version 7.2 build 939 is available for download (16th of  April 2014).
Walls, boxes, and cylinders limit camera zones (Pro version).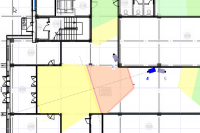 To increase the program performance for really large projects you can switch off this function using Settings/Program Preferences/Site Plan/Wall Cut Zones.
You can add a "legend box" with the current PPM/PPF settings on your site plan  (Add Box/Zone legend)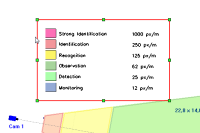 Fixed "Lock" function for vector AutoCAD drawings
Supported DWG  files of AutoCAD 2013, 2014, 2015  (Pro version).
Added a possibility to add pictures, photos or signs (Add Wall/Picture).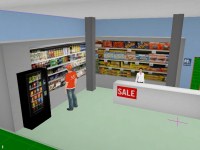 Added fences (Site Plan/Add Wall/Fence).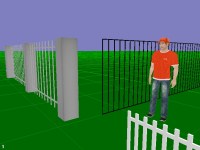 Added stairs (Site Plan/Add box/Stairs).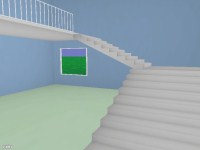 Implemented AutoCAD drawings import in vector format, so it is possible to import large DWG drawings in high resolution.
Added Text labels (Site Plan/Add box/Text).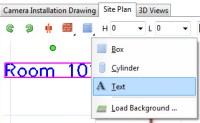 Supported .png background images.
Added "Publish to Cloud" feature to quickly share drawings and 3D views with customers or colleagues.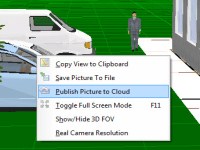 Supported a possibility to add a custom logo to the title page (File/Print, File/Save As/PDF).
Supported 11×17″ Ledger paper size apart from A4, A3, B5, Legal, Executive paper sizes
Added Rotate command to flip doors (Right mouse click / Rotate).
Fixed export function error when some parts of the site plan were missing.
Site plan rendering speed has been increased (especially on AMD Radeon graphics cards).
Version 7.1. build 888 is published (5th of March 2014, download 7.1)
This is a recommended version for computers with old OpenGL drivers versions.
Fixed export function error when some parts of the site plan were missing.
Updated PPM(Pixels per meter) values for EN50132-7 Camera Zone Visualization method.
Updated Print Dialog to support Windows "Large Fonts" mode.
Direct Print function (menu File/Print) . You can choose what to print (title page, site plan, list of cameras, images from cameras, bandwidth and storage calculatitions), paper size (A4,A3, Letter, Legal, Executive), Landscape/Portrait mode. There is a Print Preview window.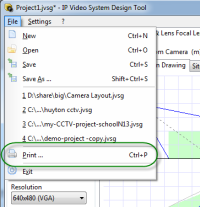 Improved project export to PDF with Landscape mode.
Added "H-PPF: Pixels per foot (horizontal) px/ft" visualization mode.
Fixed  PPM (pixels per meter) based visualizations in Imperial (ft) mode (from v 7.0.0.808).
Updated PPF/PPM calculation formulas.
Project export to PDF (File/Save As…/*.pdf). (build 845).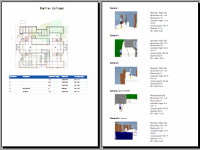 Import of site plan drawings from PDF files. (build 820).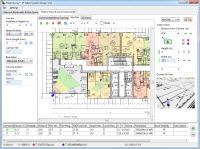 Fixed DWG/DXF site plan scale when re-loading  *.jvsg project files.
High-resolution site plan export is supported.  Use SitePlan+Right Mouse click/Save Picture to File/400% or  File/Save As/JPEG Image to save your drawing as high-resolution JPEG image. (introduced in build 809)
Version 7.0.0.808 is published (1 June 2013)
Pixels per Meter values (horizontal & vertical) are shown in the status bar in "EN 50 132-7″ and "Pixel per Meter Horizontal" visualization modes. For example 57 x 43 pix/m means 57 pixels per meter (horizontally) and 43 pixels per meter (vertically).
Adjusted the horizontal Pixels per meter calculation.
Version 7.0.0.797 is published (22 Jan 2013)
Program cleans its temporary files, which prevents some errors with background loading.
Automatic new version check has been added.
18 New Functions in Version 7:

1. Realistic test objects.
2. Ease of adding doors and windows.
3. Entire new range of test objects such as VW Golf, SUV, van, bus, Rotakin and a lady with SKL table.
4. Import of large site plan or floor plan images (up to 10000×5000 pixels) from JPEG or BMP files.
5. Copy & Paste functions using hotkeys: Ctrl-C, Ctrl-V.
6. Group Operations: group selection, move, copying, and deletion.
7. Undo buffer and undo command: Ctrl-Z.
8. New camera zone visualization: face width in pixels, pixels per meter (horizontal), EN50-132-7.
9. Interactive test person photo added into Camera Zone Visualization window, to see how lower resolutions distort the image.
10. In addition to Monitoring, Detection, Recognition and Identification zones you can adjust "Observation" and "Strong Identification" zones.
11. New camera list columns: "Dead Zone Width" and "Dead Zone" (distance from the camera to the end of the dead zone).
12. Support of new camera sensor sizes (1.25", 1.8", 35mm) and aspect ratios: 16:10, 3:2, 1:1 in addition to 4:3, 16:9.
13. Support of "corridor mode" cameras with aspect ratios 3:4, 9:16
14. Option to enter wall length, box sizes, window or door width manually. For example, just select an object and start typing: "10 x 20 ENTER" to specify box size 10 x 20.
15. Site plan scrolling: in addition to middle mouse button, now you can press Alt + Left Mouse Button (Click & Drag) or Alt+arrow keys to scroll the site plan.
16. Import of 2D AutoCAD drawings (*.DWG, *.DXF). In the current version, the software converts AutoCAD DWG/DXF files into Bitmaps. Some drawing size limitations apply*.
17. Possibility to import user 3D Models in Collada (*.dae) format. For example from Google Sketchup 3D Warehouse.
18. Support of JPEG2000 compression in network bandwidth and storage space calculations.
This version is compatible with Windows 8 64 or 32 bits, Windows 7, Vista, Windows XP SP2, Windows 2003 SP2. The previous version 6 is not fully compatible with Windows 8.
This version requires license keys for version 7. License keys from version 6 don't work in version 7. In case if you purchased version 6 before 1st November 2011, please purchase an upgrade with substantial discount.
Version 6.4.0.517 for  Windows 7, Windows Vista, Windows XP, Windows 2000  (May 2012, download)
Chinese language support has been added. Now IP Video System Design Tool supports 17 languages in total including Portuguese, Chinese, Czech, German, Dutch, Spanish, French, Greek, Hebrew, Italian, Japan, Polish, Romanian, Russian, Swedish, Turkish, and English.
Added Glass Wall object.
Improved security with the software digitally signed with updated code signing certificates from Verisign.
Version 6.3.0.510 (March 2011)
Fixed some compatibility issues
Added additional site plan and OpenGL options  (Alt-F10)
Version 6.3.0.482
Added new test object: cylinder
Camera names are displayed on the site plan.
Lengths of walls and size of box objects are shown on the Site Plan during wall or box drawing/resizing.
Updated main program and project file icons.
Added advanced program preferences window (Alt-F10).
Added Czech and Polish localizations.
Version 6.2.0.450
Possibility to set new Zero coordinate (0,0)  on the Site Plan (Right mouse click on Site Plan).
An ability to rotate or move the camera in 3D preview/3D view window using left and middle mouse buttons.
Ability to move camera target on Site plan using red endpoint. Yellow endpoints help to modify the angle of view.
Auto-detection of the measurement system (US units or Metric based on Windows Regional settings) and preferred language.
Version 6.1.0.431
Box rotation (Like in Microsoft Visio).
Arrow keys to adjust positions and size of walls, boxes, and other test objects (Hold "Ctrl" key to resize).
Added AutoRecovery function.
Site plan and 3D views grids are updated (every 10th line has been made brighter).
Improved "Add wall" function. The software helps to draw straight walls (angle=0, 90, 180, 270 degrees).
To move walls, boxes, men, cars on the site plan you can use arrow keys.
Added commands for "zoom-in" and "zoom out" the site plan using Ctrl+Shift+MouseClick.
Supported a Visio-style for drawing a wall or a box (Click + drag).
Added Site Plan zooming and scrolling functions.
The site plan is scrolled automatically when the user selects a remotely located camera.
Version 6.0.0.390
Background loading to import site plan or floor plan blueprints in JPEG and BMP formats.
New types of walls: painted walls, thin walls, thick walls
Pixel per meter visualization
New test object: Car
Number plate region selection (US, EU, AU)
Wall length is shown while drawing in the status bar
"Save   Ctrl-S" menu item in addition to "Save As…"
Pixel per ft calculation.
Large 3D view.
Option to show/hide the camera zone on the Site Plan.
Please see IP Video Design Tool help/Release notes section for details.
Early versions functions:
Supported several PAL and NTSC resolutions, including 704×288, 1280×960, 1280×1024 and 2600×1950 as well as 

Full HD, 4 MP.

Added "Bitrate, (kbit/s)" field for MPEG4/H.264 bandwidth estimation, now you can specify your CBR (Constant BitRate) limitation for each camera type.
Implemented an algorithm for MPEG4 bandwidth and storage space estimation, based on JVSG's MPEG4 research.
Implemented H.264 estimation.
Added new options for bandwidth calculation: "Image Complexity" and "Motion %" in Expert Mode (Menu/Settings/Expert Mode).
2D Site Plan / Floor plan has been added.
On "Site plan" you can add a camera at the current position using a popup menu (right mouse click to show).
Supported 1/2.5, 1/1.8, 1.25, 1/3.6-inch sensor formats.
You can put multiple cameras on the site plan and make a visual modeling of the covered zones.
You can add walls, test persons, and 3d box objects on the site plan.
Added a visualization of a camera Monitoring (5%), Detection (10%), Recognition (50%), Identification (120%) zones.
Added a new View from Camera (3D Modeling).
Added 

Save Picture to File

command in the popup menu.
Added test objects: (1st person at specified distance, 2nd – at nearest visible distance, 3rd – user placed man).
Added choice of camera format – 4:3 or 16:9.
Lens and FOV parameters grouped in Camera, Viewing angles, Field of View groups.
Added a possibility to modify the lens Focal Length and immediately calculate the new field of view.
Added new buttons for fast modification of the Focal Length and FOV Width.
Added the internal localization tool (Menu/Settings/Language/Localization Tool).
Results of bandwidth calculations were tested with several AXIS, Panasonic network cameras and compared with data from AXIS corporation.