Field of View and Lens Focal Length
Q: What are Bandwidth, Focal Length, Field of View and Sensor Size?
A: See our CCTV Glossary. The program has a help file.
Q: I've got a message "Beta period is over". Then program quits.
A: Please download the latest version.
Q: I've got a message "Module is damaged".
A: Please download and install the latest version (if you have downloaded the version 8.1.0.1314 before 14.02.2016 please download it again). If that doesn't help download one of the previous versions (8.1.0.1313 ,  8.1.0.1218).
Please check the program's Digital signatures (right click the .exe file in Windows Explorer/Properties/Digital Signatures) the program should be signed by the code signing certificate of Ipica Ltd or  JVSG Team. The certificate should be valid (if not please re-download the installer).
You must have at least Windows XP Service pack 3 to be sure your MS Windows recognizes SHA 2 (SHA 256) code signing certificate.
The Internet connection should be enabled so Microsoft Windows can check the code signing certificate authority.
Q: The license key doesn't work.
A: License keys are generated automatically and 100% of the time license keys were correct. Please check you enter exact Name as it is written in your registration email message.
Please check if you entered your license key in the corresponding software.  The serial number for "IP Video System Design Tool" version 6 or 7 doesn't work for version 8.
In this case please download the version you have purchased or purchase an upgrade.
Other typical problems are a leading or trailing spaces " " in your serial number or registration name.
The third possible scenario is using non-Latin letters (like "Ô, "Ä") in the registration name. In this case please contact us to resolve.
IP Video System Design Tool doesn't  use the activation process. All you need is to enter your license key and EXACT registration name as in your purchase confirmation email.
Please use Copy&Paste functions or Ctrl-C, Ctrl-V keyboard shortcuts to copy and paste your license key and registration name.
There is a video tutorial "How to enter license key into version 7″  on JVSG Youtube Channel.

Q: I've got an error message: Access violation in (OpenGL) module 'ig75icd32.dll'
A: This error is caused by a problematic version of Intel Graphics card drivers.
List of problematic versions of Intel HD Graphics drivers: 9.17.10.3040, 9.17.10.4229, 9.18.10.3204, 9.18.10.3220, 9.18.10.3234, 9.18.10.3272, 9.18.10.3324, 10.18.10.3345,  10.18.10.3621
To fix this error, you need to update your Intel graphics card drivers.
Please download and install new graphics card drivers by using your PC drivers update procedure or by the following steps:
Please open Intel Download Center website: http://downloadcenter.intel.com/
Enter your graphics card model name (for example: Intel HD Graphics 4600)
Choose your graphics card model and press "Find" button
Choose a proper graphics driver for your Operation System.
Install drivers.
Q: I have a problem with mouse wheel Zoom In/Zoom Out  on Windows 10. I have IP Video System Design Tool version 8
A: To fix the issue with the mouse wheel please switch off  the Windows 10 "Scroll inactive windows" mouse setting.
Go to Windows10 Settings/Devices/Mouse&Touchpad/ and set Scroll inactive windows when I hover over them to Off.
See screenshot.
Q: What graphics cards are recommended?
A: We recommend to use AMD/ATI Radeon. Integrated Intel Graphics cards are often quite slow. We don't recommend NVidia Quadro cards.  Please note, it is really important to download and use the latest graphics card drivers.
Intel(R)HD Graphics 4400 – 4600; Version 4.0.0 – Build 9.18.10.3272: Graphic card driver crashes on loading background images and on switching to DVR View(Error message "Access violation at address 160C1BB6 in module 'ig75icd32.dll'. Write of address 00000000″). Please update Intel graphics card drivers to Build 10.18.10.3621 (or 15.36.7.64.3960) to fix the problem.
Intel(R) HD Graphics 3000; Version:3.1.0 – drivers Build 8.15.10.2696:  Minor OpenGL errors. Please use HD Graphics Family driver Build 8.15.10.2509.
Intel HD Graphics or Intel  HD Graphics Family. Please install the latest drivers from Intel Download Center (for example 8.15.10.2827). Older OpenGL drivers (like 8.15.10.2202 or 6.14.10.5394 ) do not work properly.
Intel (R) 4 Series Express Chipset. Please install drivers version 8.15.10.2555 (version 8.15.10.1808 doesn't work properly).
Microsoft GDI Generic driver: this means there are no drivers installed. There is no hardware acceleration.  When the program uses GDI Generic, the program requires reinitialization and cannot load large textures. Please install proper graphic card drivers instead of GDI Generic.
NVidia Quardo 1400-1600.  Old OpenGL drivers work too slow.
NVidia Quadro K1000M, K2000M, K3000M, K4000M, K5000M. OpenGL drivers are too slow in OpenGL 1.0 Mode. NVidia driver version 4.2, 4.3 can cause some problems.
Q: Version 7 gets frozen on loading textures (Intel graphic cards).
A: That happens because of errors in Intel OpenGL drivers (e.g. version  8.15.10.1808).
To fix the problem, you need to download and install the latest Intel graphic card drivers. For example, drivers v. 8.15.10.2555 from 13.10.2011 work without any problem. You can download recent graphic card drivers from your PC manufacturer's website or from  Intel Download Center.
In case if you have 2 graphics cards (Switchable graphics: Intel + AMD Radeon or Intel + NVidia) please use your laptop manufacturer driver update procedure (for example "HP Support Assistant" software in case of HP laptops).
The easiest way to find your graphics card model is to run the DirectX Diagnostic tool:
1. Press WindowsKey + R or click Start menu, then Run.
2. In the Open box, type dxdiag , and then click OK.
3. The DirectX Diag Tool opens. On Display tab you will  see the name of your graphic card.
Q: Version 7 or 8 gets frozen on loading pose03.dae (Graphic card: Intel HD Graphics).
A: You need to install the latest graphic card drivers from Intel. Please see answer above on how to install the latest Intel graphics card drivers.
Q: I have some performance issues on my laptop NVidia Quadro 1400/1500/1600 graphics card
A: Please install the latest NVidia drivers. All these issues with OpenGL support on NVidia Quadro 1400, 1500, 1600 were solved in the latest NVidia drivers.
We received reports that NVidia Quadro drivers version 4.2.0 for NVidia Quadro K3000M  work really slow.
Q: I've got an error message "Entry Point Not Found", "The procedure entry point EncodePointer could not be located in the Dynamic Link Library KERNEL32.dll" on Windows XP.
A: IP Video System Design Tool Version 7 requires Windows XP Service Pack 3. In case if you use Windows XP SP1 or SP2 (or Windows 2003 Server), please install Microsoft Windows XP Service Pack 3 Microsoft Service Pack Center.
Q: I've got an error message  "It's not possible to locate ordinal 3109 in LIBEAY32.DLL" or "The procedure entry point CRYPTO_memcmp could not be located in the dynamic link library LIBEAY32.dll".
A: Please install OpenSSL libraries version 1.01
Q: What is the unit of measurement of Distance, Camera Height or Object Height – is it measured in meters or in Ft.?
A: Please choose the measuring system from menu "Settings\System". You can select Metric (meters) or Imperial(ft – US units).
Bandwidth and Disk Space Calculations
Q: How to make "Motion%", "Recording%" and  "Image Complexity" columns appear?
A: Please right click the bandwidth calculation table, and choose Show/Hide Columns from the popup menu. Select these columns and click OK.
Q: About Disk space calculation. We almost always use motion recording so therefore you need some estimate on how much of the specified time is triggering motion recording. Of course this is very hard to know in advance, but it would be better to at least be able to specify an percent (10-100%) and also be able to set the time interval for when that is relevant (say between 10 AM to 9 PM, or as many prefer, 9:00-21.00 á la military style).
A: Please use Motion Activity (Activity %) parameter. It is even possible to calculate Activity from recording and motion activity schedule.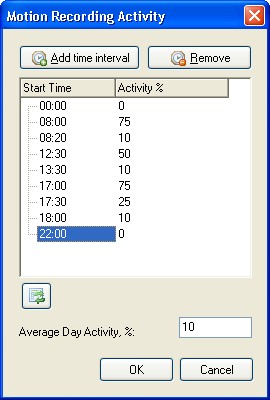 How to uninstall the software
To uninstall the software please follow de-installation instructions.