Using the Field of View and Lens Focal Length tab you can calculate the camera lens focal length, and field of view to find best camera position.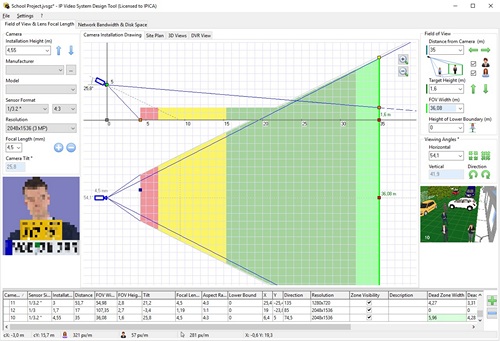 Focal Length (measured in mm) – The distance from the center of a lens to the focal point (sensor). The longer the focal length, the narrower is the angle of view.
To calculate the field of view or lens focal length of a CCTV camera you need to know some parameters of the installation. If you need to calculate the lens focal length you should specify following parameters:
Distance from Camera – Maximum distance from Camera to the target.
Camera Installation Height – CCTV camera installation height.
Field of View: Height – Height of the target. When you select the Field of View(FOV) Height for the camera installation, the software calculates the camera Tilt.
Field of View: Width – The other option is to specify FOV width instead of the height. Just enter the desired width of field of view (viewing area) for the specified camera distance. If you modify FOV parameters the Focal Length and the Viewing Angles will be automatically recalculated. The other option is to specify viewing angles instead of FOV Width. In this case FOV and Camera Focal Length will be calculated automatically.
Camera Sensor Format – CCD or CMOS sensor size (sensor format). You can choose the sensor format from: 1/4″, 1/3.6″, 1/3″ , 1/2.5″, 1/2″, 2/3″, 1″ and 1.25″. Usually you can find the sensor format in the camera specification. Typical value for network camera with VGA resolution is 1/4 inch. For many cameras with CCD sensor the format is 1/3″ (Sony, Cisco). Some Panasonic BB-HCM cameras use 1/3.6″.  Megapixel cameras often use following sensor formats: 1/2″ (Mobotix), 1/3″ (AXIS, JVC, Pelco IM10C10), 1″ or 1.25″. Sanyo VCC-HD4000P camera uses 1/2.5-inch sensor format.
The 3D Camera View window of our Design Tool shows results of camera view 3D modeling with 2 test objects:  the first on the specified distance from camera (red) and the second on the bottom camera line (blue). The user can add an additional test object by clicking on the drawing .
In case if you have a fixed lens with known lens focal length and need to calculate the Field of View you can just enter the Lens Focal Length parameter and get the Field of View and Viewing Angles calculated. You can download a free trial version of our 3D Design Tool for video surveillance cameras here.
See Video Tutorial, IP Video System Design Tool, CCTV Design Tool;