To calculate network bandwidth of your CCTV cameras and get the required storage space for video archives you need to add camera types and specify some parameters of your CCTV installations: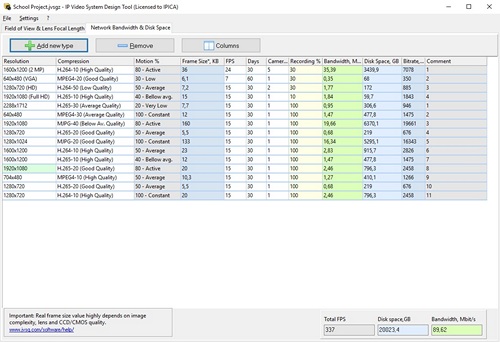 Resolution – Camera resolution in pixels. You can select resolution from the drop-down list. The list contains most popular PAL and NTSC camera resolutions (like 352×288 CIF PAL, 704×576 4 CIF PAL) as well as some typical network cameras resolutions (like 640×480) including megapixel resolutions (1280×1024, 1600×1200), HD and full HD resolutions (1920×1080) as well as others.
Compression – Video compression. You can choose from MPEG4, H.264, four levels of Motion JPEG (MJPG) compression (from Low to High) and "RAW Data". If you use Motion JPEG you can use different JPEG compression levels. If you use low MJPEG compression (level 10) you get best quality of picture and about 10 times lower frame size. If you use Medium MJPEG compression (level 20) you usually obtain a good picture quality and an optimal Quality/Frame Size ratio. With a JPEG level more than 50 your picture became bad for video surveillance purpose.
FPS – Frames Per Second. Typical FPS for video surveillance system is from 5 to 15 frames per second. In some applications (like CCTV in casino) it is required to use higher speed values (25-60 FPS). Alternative name for FPS is IPS (Images Per Second).
Days – Required length of video archive in days (24 hours). Used for storage space calculation.
Cameras – Number of cameras in your CCTV installation with the same parameters.
Recording % – Estimated motion recoding activity. 100% for constant recording. This parameter is used to calculate disk storage space in case the video is recorded on a schedule or on a motion detector.
Image Complexity – Frames from some CCTV cameras are more detailed and have a higher frame size.
Motion % – Motion activity (100% for constant activity). This parameter is used for MPEG4 and H.264 bandwidth estimation.
As a result for each camera type you get:
Frame Size (Kilobytes)- software can make frame size estimation based on resolution and compression. In some special cases you can measure your real frame size and specify it in this field.
Bandwidth, (Megabits per second) – How much network traffic is required for these cameras.
Disk Space, (Gigabytes) – Disk storage space required to store video archive.
At the bottom of the window you can find total bandwidth and disk space required for your video surveillance system.
To make proper bandwidth planning you should know practical the bandwidth values for your network type.
1 Gigabit Ethernet: 500 Mbit/s
100 Mbit Fast Ethernet: 55-60 Mbit/s
10 Mbit Ethernet: 6-7 Mbit/s
WIFI 802.11g 54 Mbit:  12-25 Mbit/s
The software calculates Frame Size estimations from Resolution and Compression using our own method based on our MJPEG frame size research.
Bandwidth and storage space are calculated using following formulas:
Bandwidth (Mbits) = FrameSize (Kb) * 1024 * 8 * FPS * Cameras / 1000000
Storage Space (GB) = FrameSize (Kb) * 1024 *FPS * Cameras * Days * 24 * 60 * 60* Activity * / 1000 000 000
See also: Video Tutorial, IP Video System Design Tool, CCTV Design Tool;